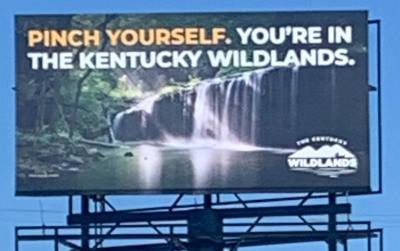 WHITLEY CITY, KY ―  McCreary County residents and visitors now can enjoy viewing majestic Princess Falls as they drive through Whitley City, thanks to a new billboard promoting The Kentucky Wildlands.
PRIDE put up the billboard at the intersection of Williamsburg Street and US 27 as part of its new regional tourism initiative, The Kentucky Wildlands. Covering 41 counties in southern and eastern Kentucky, The Kentucky Wildlands will spur economic development by marketing the region as a tourism destination filled with natural beauty, rich culture and boundless adventure. The bottom line is to enhance the region's quality of life and economy.
"Beyond attracting tourists, The Kentucky Wildlands is telling our region's story ourselves, rather than living with the stereotypes given to us by Hollywood and national culture," explained Tammie Nazario, who directs The Kentucky Wildlands as PRIDE President/CEO.
"I'm from McCreary County, and this image of Princess Falls is part of the story that I want to tell about my hometown," Nazario said. "Let's talk about our natural beaty, a land of waterfalls and arches, hundreds of miles of hiking and ATV trails, our resilient culture. Let's talk about our rich history of coal and lumber and how we turned that legacy into the new tradition of riding the Polar Express each December."
"Now, I'm not saying we're perfect, and we don't need to be," Nazario added. "After all, that is part of the appeal of a place that calls itself The Kentucky Wildlands. We are a diamond in the rough with an abundance of untouched beauty just waiting to be explored."
Greg Davis, another McCreary County native, took the stunning photo featured on the billboard.
"I'm honored to have a photograph of mine, especially from one of my favorite McCreary County waterfalls, displayed on a billboard in my home area," Davis said. "The message I would hope to convey is that McCreary County is filled with incredible natural scenic beauty and it would be well worth spending time on our trails and in our woods."
"Over the past 8 years I've taken literally thousands of photos of the incredible, natural scenic beauty to be found within McCreary County and have shared them across various websites and social media platforms," Davis said. "Always with the hope that as folks from around the region see them that it will inspire them to visit and spend time in our woods and along our streams."
Given his passion for showcasing the region's great outdoors, Davis has been gracious to share his photography with The Kentucky Wildlands for use in social media, as well as print and digital ads. He even is volunteering on a team to identify accessible waterfalls across the region so they can be marketed as a waterfall trail.
"The Kentucky Wildlands initiative is incredibly important to not only McCreary County, but to all 41 counties," Davis said. "Linking so many of the wonderful opportunities each of the counties within the The Kentucky Wildlands have with nature (waterfalls, hiking trails, scenic vistas, parks, etc.), lodging, shopping and dining, for example. The Kentucky Wildlands team utilizes all types of social media to advertise and inform folks of all the incredible things to be found here."
To see more of Davis' photography, visit @gregs_imagez on Instagram.
To learn more about The Kentucky Wildlands, and to see photo galleries of waterfalls across the region, visit exploreKYwildlands.com.
If the billboard inspires you to visit Princess Falls, plan on a moderate hike. For directions, as well as ideas for other great hikes in McCreary County, check out this blog: https://www.explorekywildlands.com/blog/post/kentuckys-big-south-fork-hiking-trails/
###