Kayaking and Canoeing in The Kentucky Wildlands
Embark on a one-of-a-kind paddling experience by canoeing and kayaking in Kentucky. In the Kentucky Wildlands, choose to canoe beautiful, spacious lakes and rivers or kayak breathtaking waterways and underground mines. You'll discover abundant waters to explore, from streams and creeks to rivers and lakes. Spend the whole day paddling or create a multi-day trip with tons of outdoor fun. With so many options for kayaking in Southern and Eastern Kentucky to enjoy, the only hard part will be picking where to begin the journey once you're here.
Kayak through Cavernous Gorge Underground
Want to try something adventurous? Venture over to the Gorge Underground, one of the coolest places for paddling in the Red River Gorge. Hop in a kayak and make your way through the darkened mine with an expert guide leading the way. For a fun first-time experience, pick the Classic Kayak Tour, perfect for all ages. Enjoy this one-hour guided tour as you make your way through the mine, capturing all the surrounding features. If you want some more added adventure, the Crystal Kayak Tour is great for a unique, mind-blowing experience. Explore the underground mine from a kayak equipped with a crystal-clear floor and underwater LED lights, giving you an awe-striking peek of what lies below. Discover the best views of rainbow trout and other underwater features on this 90-minute tour.
Relax and Canoe at Laurel River Lake
Looking to get away from the crowds? Spend a day or a weekend paddling the calm Laurel River Lake. A destination favorite, this 19-mile lake is ideal for those who want to explore the waters at their own pace. This spot is great for families to enjoy a fun day of paddling without the intensity of advanced waves or rapids. Kayak or canoe the quiet lake and designated recreation areas, including the beautiful federally protected spillway of the Laurel River Dam. Enjoy the tranquility of nature and all the breathtaking views throughout.
Kayak on Lake Cumberland, One of The East Coast's Largest Lakes
Launch into pristine waters and kayak gorgeous Lake Cumberland. At over 65,000 acres, this is one of the largest lakes in the eastern United States. It's calm waters make for great paddling opportunities. Explore the lake's many hidden spots to discover special scenic views, like the Garner Branch Falls. Enjoy more popular spots centered around the marinas, or kayak further out for more remote and quiet waters. Head downriver from a number of easy access points to experience the expansive Cumberland River, one of the best rivers in Kentucky for paddlers. You'll find the first 16 miles, beginning at Kendall Recreation Area boat ramp, are perfect for canoeists. It's a great spot for beginners to practice and those wanting to just relax within nature. In need of a boat? No problem. Kayak and canoe rentals are available at Lake Cumberland State Dock or Mutt E. Waters.
Kayaking The Rapids of Rockcastle River
If you're a thrill seeker, head on over to Rockcastle River, named for its stunning cliffs that tower over the water. This 55-mile water journey is great for advanced paddlers who enjoy a challenge. This area can be great for an impromptu getaway or an afternoon of water adventure. Begin your trip with small riffles and long sections of flat water, ideal for anglers to enjoy an afternoon of fishing or canoeists wanting to have fun in the water. Head further south until you reach the Rockcastle Narrows, a kayaker's playground with over seven quality rapids when the lake levels are low enough. This section of the river is a solid Class III to IV, so be ready for plenty of rapids and unpredictable turns.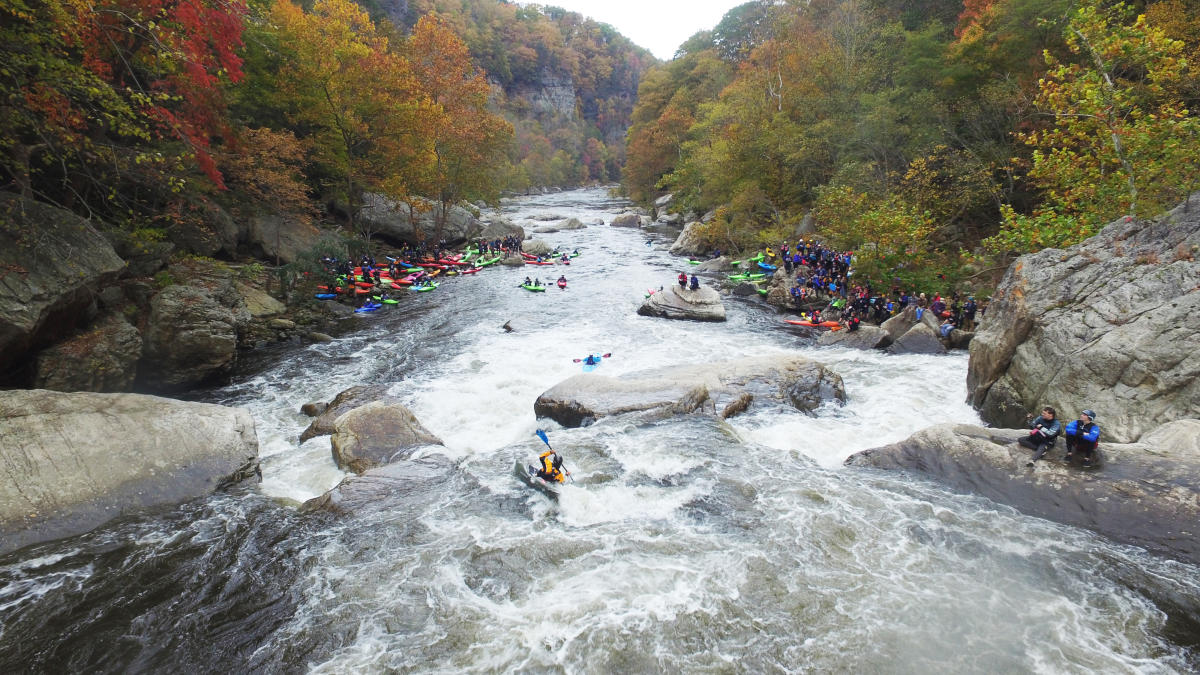 Hidden Gems in the Kentucky Wildlands