Camping in The Kentucky Wildlands
Discover endless camping opportunities in Kentucky and start planning your next overnight adventure by a campfire.
Looking for thrilling and memorable camping in Kentucky, unlike anywhere else in the U.S.? The Kentucky Wildlands offers a bounty of outdoor adventures and scenic areas to post up for the evening, from staking out a site along the shores of a forest-lined lake to pitching a tent off a rugged trail. You can even enjoy the spacious campgrounds of a gorgeous state park. Camping in The Kentucky Wildlands provides as much relaxation and adventure as it does natural beauty.
The Kentucky Wildlands features a collection of pristine lakes and state parks, each with its own unique character to appeal to campers of all types and styles. Are you wanting a more relaxing experience filled with the wonders of nature? Try Buckhorn Lake, where you'll surround yourself with tree-covered hills as you overlook the peaceful lake. Enjoy a day of birdwatching, fishing, water sports, horseshoes and hiking. And if you're traveling with kids, don't miss the playgrounds or mini golf course here.
If you're looking for a more adventurous experience to explore the unique geology of the area, make your way to Carter Caves State Resort Park in Carter County, which has five natural bridges and the highest concentration of caves in Kentucky. Take part in a variety of outdoor activities, from hiking 33 miles of wooded trails to guided walking tours of Cascade Cave and its many caverns. You can also take advantage of gem mining, rock climbing and discovering a 30-foot underground waterfall for some added adventure.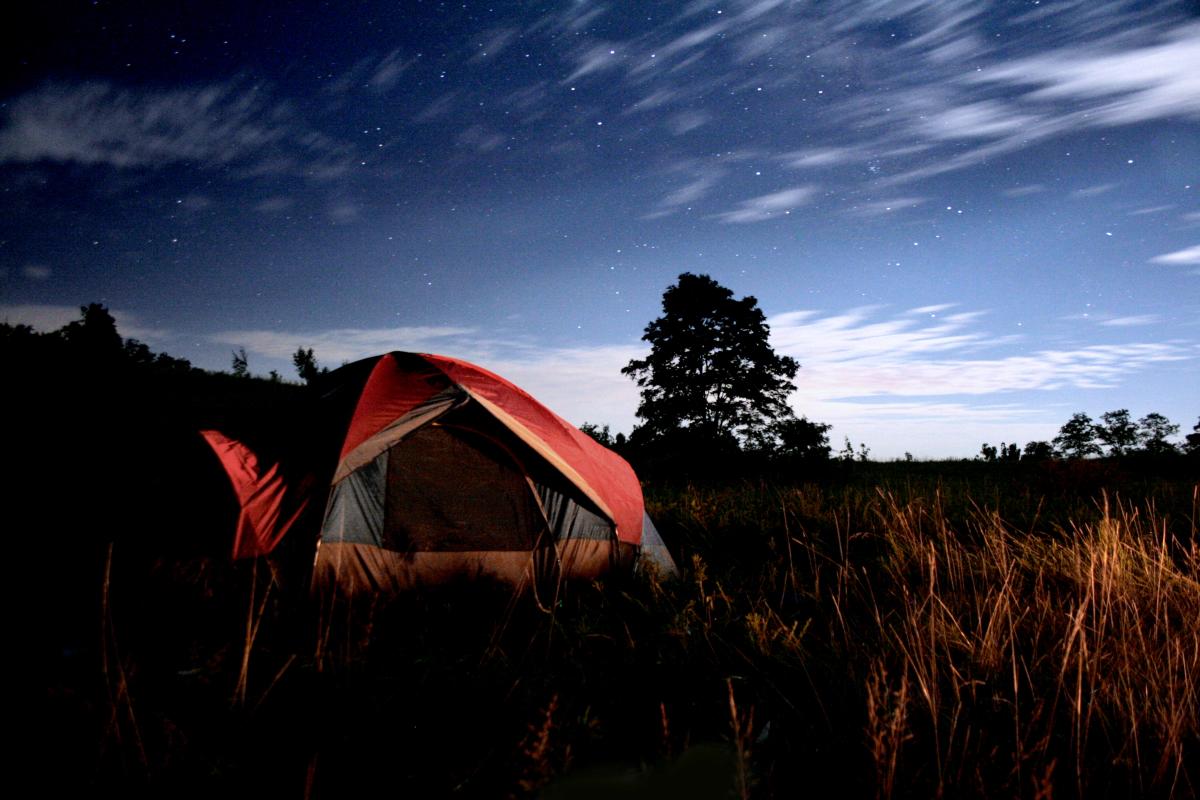 The Magical Beauty Of The South
Among the natural beauty of The Kentucky Wildlands lies the Cumberland Falls State Resort Park. This natural state park, which stretches nearly 1,657 acres, features over 49 campsites and multiple outdoor activities, like fishing, swimming, biking and mini golfing. Cumberland State Resort Park also offers 17 miles of hiking trails for the common outdoor adventurer.
Looking for a challenging hike? The Moonbow Trail is perfect for experienced hikers seeking out a longer, more intense trek. If you're wanting more of a casual hike, Cumberland Falls Trail is great for those who enjoy going at their own pace while still experiencing the surrounding views. And if you just can't get enough of the area's magnificent waterfalls, nearby is The Kentucky Wildlands Waterfall Trail, where you'll have over a dozen more waterfalls to choose to find along this forested path.
Another can't-miss site is the magical waterfall. Known as the Niagara of the South, the Cumberland Waterfall captures the essence of nature both day and night. If you go at night, relish in the moonbow phenomenon that is one of few in the Western hemisphere.
Kentucky's Outdoor Hidden Gem
Hidden in plain sight, the Daniel Boone National Forest is a camper's dream. Stumble across this hidden gem and embark on an outdoor adventure of a lifetime. Stretching more than two million acres and featuring multiple Kentucky state parks, this national forest is perfect for a fun-filled day trip or an extended stay.
Both primitive campers and RV glampers can find options suited for their camping needs, including a fire ring to cook dinner and picnic tables to enjoy the meal. Among the abundant wildlife, explore the scenic nature and popular attractions, from Laurel River Lake to Pine Mountain State Resort Park.
In Daniel Boone National Forest, you'll also find a large number of water sports and activities, such as canoeing, boating, tubing and water skiing. For land-loving campers, enjoy over 600 miles of trails for hiking, rock climbing and backpacking fun.
Camping With an RV
Pull up your RV to one of the many spacious and unique RV parks throughout the Kentucky Wildlands, such as the Renfro Valley RV Park in Renfro Valley. Located in the beautiful foothills of the Appalachian Mountains, Renfro is known as Kentucky's Country Music Capital and the location of two live music performance theaters since 1939.
Aside from musical festivities, you can also enjoy an array of outdoorsy activities such as swimming, hiking, mini golfing and the giant jumping pillow, a favorite among young campers.
If you're looking to hit as many of Kentucky's popular attractions as possible, park your RV at Cave Country RV Campground. This campground will make you feel right at home while giving you access to all sorts of surrounding adventures, like Mammoth Cave National Park and the Bourbon Trail. Cave Country RV Campground is also big rig certified and pet-friendly!
More Kentucky Wildlands Campgrounds to Explore
The possibilities are endless when planning your Kentucky Wildlands camping adventure. There's truly something for everyone. At Cave Run Lake, discover more than 400 campsites, including RV and primitive sites, as well as cabin rentals.
Known for its scenic beauty, Cave Run Lake is great for outdoor recreational activities. Enjoy horseback riding, wildlife viewing, mountain biking and hunting, all within the majestic Daniel Boone National Forest. There, find Zilpo Campground, a 355-acre campground with scenic views, a boat ramp and a nearby country store. Its sandy beach even has a roped swimming area for the kids to splash around.
Looking for the ultimate outdoor adventure? Visit the national natural landmark Red River Gorge for an unforgettable outdoor experience. At Red River Gorge, you'll be able to feel one with nature and live out all your adrenaline dreams.
The Red, one of the top rock climbing destinations around, provides a rock climbing experience you'll never forget, no matter your skill level. For even more of an adrenaline rush, try ziplining 300 feet above Red River Gorge, taking in all the awe-inspiring views.
Worn out from all that excitement? Retire to one of the many lodging options, including cabins, treehouses and starlit campgrounds to pitch your tent.
Camp or Glamp in the Bluegrass State
No matter what your idea of "setting up camp" and spending a night under the stars is, going camping in Kentucky is an experience worth having and sharing. Whether flying solo, with a group of friends, family or significant other, there are endless opportunities to become a real happy camper in The Kentucky Wildlands.
Hidden Gems in the Kentucky Wildlands