Laurel River Lake
Lying in the heart of the beautiful Daniel Boone National Forest, Laurel River Lake provides more than 5,600 acres of deep, clear Kentucky water and 200-plus miles of tree-lined shores, making it the ideal nature escape. Plan a trip to Laurel River Lake and discover an outdoor playground full of adventure.
Water Recreation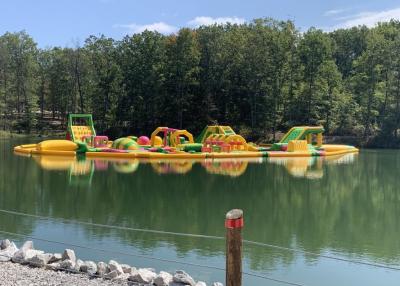 Plan your next boating trip to one of Kentucky's deepest and cleanest lakes. Seven boat ramps ensure easy accessibility to Laurel River Lake, and the lake is perfect for water skiing and tubing. If you don't own a vessel, boat and pontoon rentals are available. You'll find everything you need, from rentals and camping supplies to fishing gear and licenses, at the lake's two full-service marinas, located at Grove and Holly Bay Campgrounds.
Looking for a more laid-back outing? The Goose Management Area on Cane Branch is reserved for non-motorized vessels. Drop in your canoe, kayak or rowboat to explore the lake at your own speed.
The lake's clear water, great depths and submerged rock formations make it a popular year-round destination for scuba-diving expeditions as well. Look for designated diving areas around the lake.
Fishing
Calling all anglers — Laurel River Lake's abundant black bass, rainbow trout, walleye, crappie, bluegill and catfish attract fishing enthusiasts from near and far. For a unique fishing trip, go night-fishing for trout in the summertime.
Drop a line at the lake's most popular fishing holes, like Fishing Point, Holly Bay Marina, Long Bend Fishing Site and White Oak Boat-In Campground. In need of equipment? Visit a marina to resupply your tackle box and pick up your state fishing license.
More Outdoor Fun
How about a hiking or biking adventure? The Laurel River Lake area features more than a dozen trails to explore. Take in the beautiful lake and forest scenery as you trek miles of trails.
Looking for a little R & R? Quiet coves and cliff-lined shores offer relaxation, respite and wildlife viewing, featuring a resident population of giant Canadian geese and wintering bald eagles. Keep your eyes peeled, as you might spot deer and other native wildlife as well.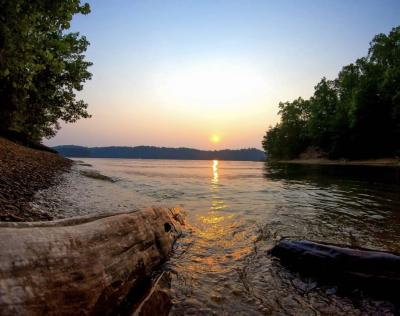 For a fun family outing, pack a picnic and your beach towels and spend the day at the swimming beach and picnic area at the spillway of the Laurel River Dam. This family-favorite beach is maintained by the U.S. Army Corps of Engineers.
Campsites
Want to stay the weekend? Laurel River Lake area features four campgrounds: Grove Boat-in Campground, Grove Drive-In Campground, Holly Bay Campground and White Oak Boat-In Campground. Most campsites come equipped with tent pads, picnic tables, fire rings and lantern poles.
RV campers are welcome at Grove Drive-In Campground and Holly Bay Campground. Both campgrounds feature electricity and water hookups at drive-in sites.
If you're traveling with a group, book your stay at Craigs Creek Group Use Area. Craigs Creek campsites are designated for tent camping only. Each site features picnic tables, a lantern pole, a large grill and a campfire circle, but these sites are not equipped with electricity. This group camping area also features flush toilets, a shower house, a large recreational field and horseshoe pits.
While some campsites are available on a first-come, first-served basis, it's best to call ahead to reserve your spot. Call 877-444-6777 today to book your Kentucky Wildlands camping adventure.
Looking for more info? Reach out to the London-Laurel County Tourism Office at 606-878-6900, the Corbin Tourism Commission at 606-528-8860, or the U.S. Army Corps of Engineers Laurel River Lake Picnic Area at 606-864-6412.
Hidden Gems in the Kentucky Wildlands