Boating Adventures in The Kentucky Wildlands For All
Want to create unforgettable memories on the water? Visit The Kentucky Wildlands for all your boating activities. Whether it's commandeering a luxurious houseboat in a quiet cove or launching a fishing boat into a well-stocked mountain river, the boating opportunities are endless here. Jet across crystal-clear water with skiers in tow, or bring the whole family for paddle boating at a beautiful state resort park. Enjoy a relaxing pontoon day with friends as you float next to a forest-lined shore. Whatever you decide, you'll experience one-of-a-kind boating adventures.
Scenic Houseboat Capital
Get ready for a fun-filled weekend in the houseboat capital of the world, Lake Cumberland. Enjoy easy access to this clear lake that stretches over 101 miles and features 1,255 miles of wooded shoreline. Take in stunning views of waterfalls and rolling hills while drifting through the quiet blue waters. Don't want to trailer your own boat? Not a problem. Lake Cumberland makes it easy for boat rentals of all kinds, from pontoons and ski boats to family-sized houseboats. Pick from a variety of sizes with added amenities to make your outing even more enjoyable. After a day of fun and relaxation on the water, dine out at one of the most popular restaurants on the lake, Fishtales at Wolf Creek Marina. Dig into delicious food as you sit under the tiki pavilion and watch the beautiful sunset off the lake. Discover six great houseboat rentals available at Lake Cumberland.
The Clearest Lake in Kentucky
In the middle of Daniel Boone National Forest, you can find the beautiful Laurel River Lake. Known for being the deepest and clearest lake in Kentucky, this location is ideal for boating adventures. Choose from seven launch ramps as well two full service marinas for access to the lake. Cruise across clear waters surrounded by extended cliff-lined shores. Glide into wildlife-filled bays to get a view of Canadian geese and wintering balding eagles. Sail through the quiet waters to discover one of the lake's coves. All types of boating fun await you at Laurel Lake.
Boat Fishing on The River
Anglers will find superb boat fishing opportunities on numerous lakes and rivers in The Kentucky Wildlands. Secluded away near Clay County, you will find the Red Bird River. This spot is perfect for those who enjoy the peaceful art of fishing without the disturbance of jet skis and cabin cruisers. Just hop in your fishing boat and cast your line into one of the top musky fishing streams in the world. For a premier trout fishing destination, journey over to Cumberland River.
The Best of Both World
Check out Grayson Lake State Park for the ultimate day of boating. One of five launching ramps will provide you access into the lake. Bring your own boat or pick from a variety of rentals. As you sail out onto the water, you'll catch beautiful vistas of gentle slopes and canyons. A few miles away, visit the public marina for everything you'll need for a day out on the lake, such as boat rentals, bait and groceries. Need a break from boating? Head over to the Hidden Cove Golf Course. Stretching 7,155 yards from the back tee, this par-72 course is open year round. Enjoy scenic views of Grayson Lake while working your way through the course. Experience tee time like never before.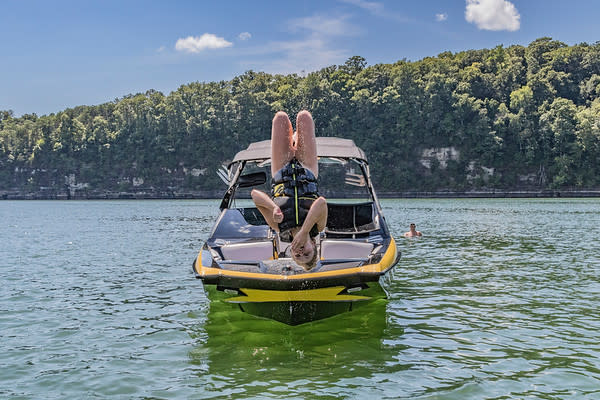 Family Boating Fun
Invite the whole family for some fun at Cave Run Lake. Whatever boating adventure you're in the mood for, you'll find it at this perfect water escape. Experience over 8,000 acres of open water along with 200 miles of shoreline. If you're into fishing, hop in a boat and discover the many catches waiting for you. Looking for something more laid back? Relax on a family-sized pontoon surrounded by Appalachian hills and wooded shores. Harness your family's extra energy with paddleboarding, great for parents and kids alike. Whether you choose to trail your own boat or rent from local businesses, this lake has everything you'll need for a full day of water recreation.
Hidden Gems in the Kentucky Wildlands