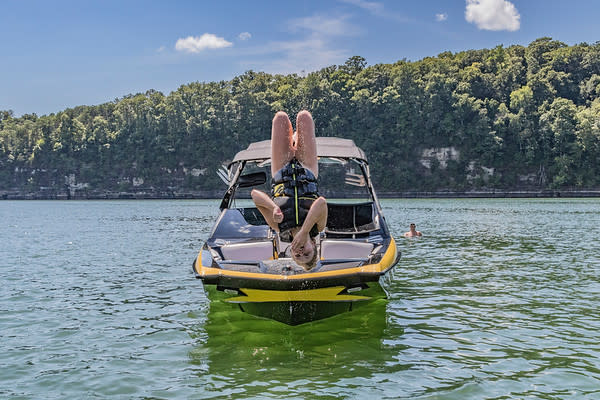 Boating in The Kentucky Wildlands
Whether it's commandeering a luxurious houseboat in a quiet cove, jetting across crystal-clear water with skiers in tow, launching a fishing boat into a well-stocked mountain river, floating leisurely on a pontoon next to a forest-lined shore or steering a family-friendly paddleboat at a beautiful state resort park, the one-of-a-kind boating possibilities in The Kentucky Wildlands are sure to create unforgettable memories.
Enjoy easy access to the largest single fleet of houseboats in the United States at scenic Lake Cumberland with its numerous houseboat rental options in a range of sizes and amenities, from basic to luxurious. Cruise across clean water and glide into wildlife-filled bays at such lakes as Laurel River Lake (home to wintering bald eagles). Anglers will find superb boat-fishing opportunities on numerous lakes (fishing boat rentals available) and teeming rivers, such as the secluded Red Bird River (one of the top musky fishing streams in the world) and the Cumberland River (including a stretch known as a premier trout fishing destination in the Southeast). Relax on a family-sized pontoon surrounded by Appalachian hills and wooded shores on such lakes as Cave Run Lake. Or harness your family's extra energy to pedal a paddleboat at one of the region's nine state resort parks, such as Jenny Wiley State Resort Park.
Hidden Gems in the Kentucky Wildlands