Dale Hollow Lake
Enjoy all kinds of water recreation at one of the nation's highest-rated lakes (USA TODAY), beautiful Dale Hollow Lake. Choose your own adventure, from jet-skiing, wakeboarding and waterskiing to exceptional houseboating, kayaking and swimming.
World-Famous Boating & Fishing
Take advantage of what USA TODAY calls the "fourth best lake in the nation to float your boat" and launch out for fun from over 200 slips and ramps into 28,000 acres of serene water surrounded by 620 miles of gorgeous undeveloped shoreline. Boat rentals are available, including recreational and fishing boats. Traveling with family or a larger group? Rent a houseboat to accommodate your whole crew.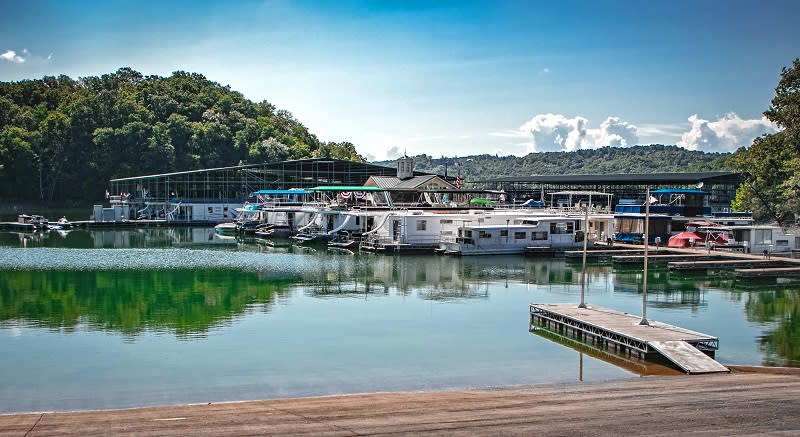 Dale Hollow Lake offers world-famous fishing. Cast off into world-record-holding waterways, as Dale Hollow Lake has held the world-record catch for smallmouth bass and the state record for muskie. The lake attracts anglers from all over the country with its abundant trout, crappie, bream, muskie, catfish, walleye and five species of bass. A state fishing license is required. Purchase a license at the Kentucky Department of Fish and Wildlife Resources.
Dale Hollow Lake State Resort Park
Explore the adjacent Dale Hollow Lake State Resort Park for more outdoor fun, from hiking, birding and horseback riding to golf, hunting and cave exploration.
Enjoy over 15 miles of multi-purpose trails dedicated to hiking, mountain biking and horseback riding. Take in the natural scenery as you journey across the narrow ridge tops leading to the lake.
Pack your clubs and hit the greens. With mountains in the background, tee off at one of the most scenic courses in the country, Dale Hollow Lake State Park Golf Course, featuring hills, caves, gorges and rock outcroppings. Experience a one-of-a-kind golf outing at this 18-hole course and driving range. If you're traveling with the family, you have to play a round at the park's 18-hole mini-golf course. This nautical-themed course features bridges and free-flowing water obstacles. Kids will also love the park's five playgrounds.
For those seeking a more rugged adventure, take a wild cave tour with a knowledgeable guide in Cindy Cave. These guided tours run Memorial Day through Labor Day, but group tours for three or more people can be arranged throughout the winter.
Wildlife viewing and bird watching are also wildly popular at Dale Hollow Lake State Resort Park, with migrating eagles gathering around the lake from December through February. Year-round, you can spot northern bobwhite, wild turkey and cooper's hawk, while the summer months are known to bring scarlet tanager, indigo bunting and green heron. Follow along the trails to Eagle Point Overlook to see a variety of raptors and waterfowl.
Hunters can trek the surrounding 24,000 game-filled acres for a successful hunting weekend. Bikers can wind throughout the beautiful Cumberland Valley along the Motorcycle Ride trail, which begins in the park.
Lodging & Accommodations
Book your stay at Dale Hollow Lake. Accommodations range from a 60-room lodge, cottages and 145 campsites, including spacious RV campsites, to a number of hotels surrounding the Dale Hollow Lake area.
The Mary Ray Oaken Lodge sits atop a bluff overlooking the lake, giving guests awe-striking views from their balconies and patios. Lodge guests also have access to an outdoor pool and wading pool. Campers can enjoy onsite amenities like the community pool and basketball courts.
Located at 5970 State Park Rd, Burkesville, KY, the Dale Hollow Lake State Resort Park offers lodging, biking, birding, caving, fishing, golfing, hiking and more. For more information and tips, call 270-433-7431.
Hidden Gems in the Kentucky Wildlands