When we all want to "get back to normal," nature comes through for us. Just as they have for millennia, the colors of fall will sweep across The Kentucky Wildlands from late September throughout October. You can count on it.
You also can capture this glorious transformation of seasons in photos ... if you know the tricks of the trade.
We asked local photographers to share their advice for photographing the region's fall foliage. Below are tips from Greg Davis and Meredith Frye. We hope you enjoy their insights ... and their beautiful photographs.
Try out their ideas by planning your own photography tour of The Kentucky Wildlands using the map below. Be sure to check Places to Stay in The Kentucky Wildlands.
When you have your fabulous pics, then enter them in our Fall in Love with The Kentucky Wildlands Photo Contest (launching Sept. 27), or share your pics with us on Instagram, Facebook or Twitter with #FallinLOVEwithTKW.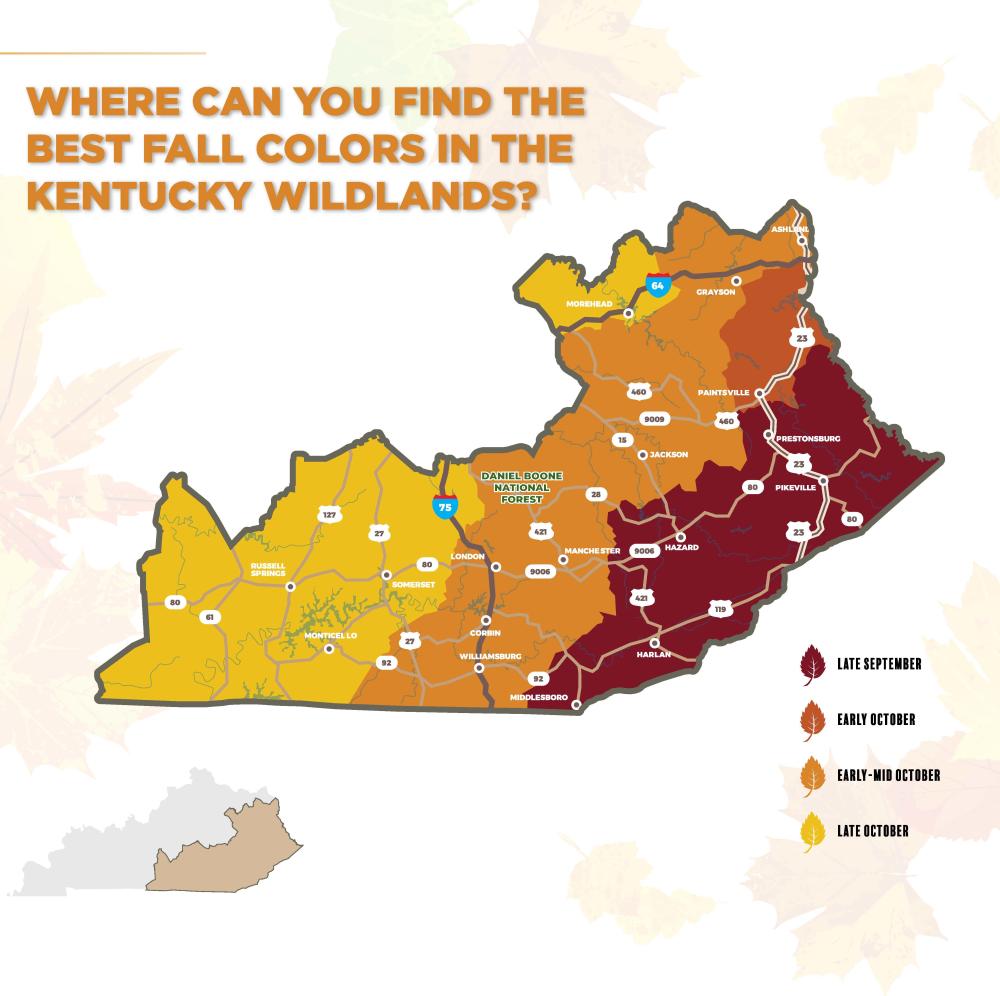 The Hunt for a Red(dish) October in The Kentucky Wildlands
By Greg Davis - Greg Davis (IG @gregs_imagez) is an avid landscape/waterfall photographer with a passion for capturing the natural beauty in and around the Cumberland Plateau Region of Kentucky.
The Daniel Boone National Forest encompasses 1,338,214 acres of land in eastern/southeastern Kentucky and is filled with oak, poplar, maple and beech trees with leaves that change to every possible hue and color of the autumn season. For viewing wide expanses of autumn color, places such as Natural Arch in McCreary County (photo below), Chained Rock @ Pine Mountain State Resort Park, Knobby Rock @ Blanton Forest and Raven Rock @ Kingdom Come State Park in Harlan County (photo below), Natural Bridge @ Red River Gorge and Dick Gap Overlook @ Big South Fork National River and Recreation Area in McCreary County all offer scenic overlooks and vistas that are incredible. Majestic Cumberland Falls (photo below) is always spectacular, but especially so during the peak of fall color.
The 2021 Farmer's Almanac predicts that peak fall color for eastern/southeastern Kentucky will occur during Oct. 5 thru 21, although the weather conditions could certainly change the dates somewhat.
Tips for Photographing Fall Color
If using a DSLR, attaching a circular polarizing filter to your lens will saturate foliage colors and reduce any unwanted glare.
Soft lighting conditions during the early morning, late evening or anytime during overcast skies tend to reveal the most visually appealing color and contrast in fall foliage.
Atmospheric conditions, such as fog and mist, add visual interest and drama to the landscape.
The wind doesn't always cooperate when photographing colorful leaves and unless your intent is to present a photo with blurry foliage, you will need to ensure your camera's shutter speed is sufficiently high to freeze motion. (Generally faster than 1/160th of a second.)
If you find yourself in a place where the scene includes water, consider composing your photograph to include the colorful foliage reflections in the water.
What you exclude can be just as important as what you include in your photograph. Regardless of the device you use to capture a photograph, carefully consider how you compose and frame your photo before clicking the shutter.
Our eyes tend to "see" the brightest element within a photograph. Bright, cloudless skies rarely add visual interest within a photo.
Colorful leaves don't have to be hanging from a tree limb to be a worthy photographic subject. Look for interesting arrangements of leaves along the ground or in the water and you may find your most interesting photo of the day.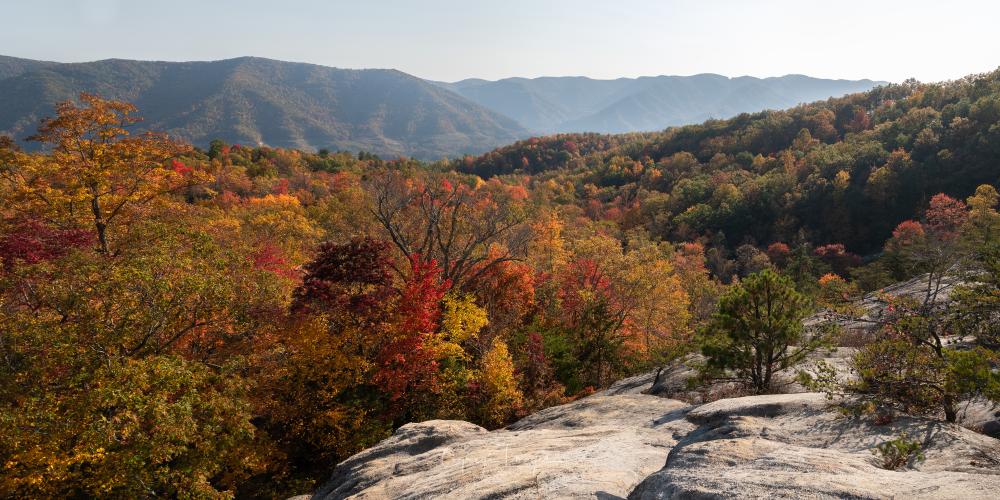 Kingdom Come in October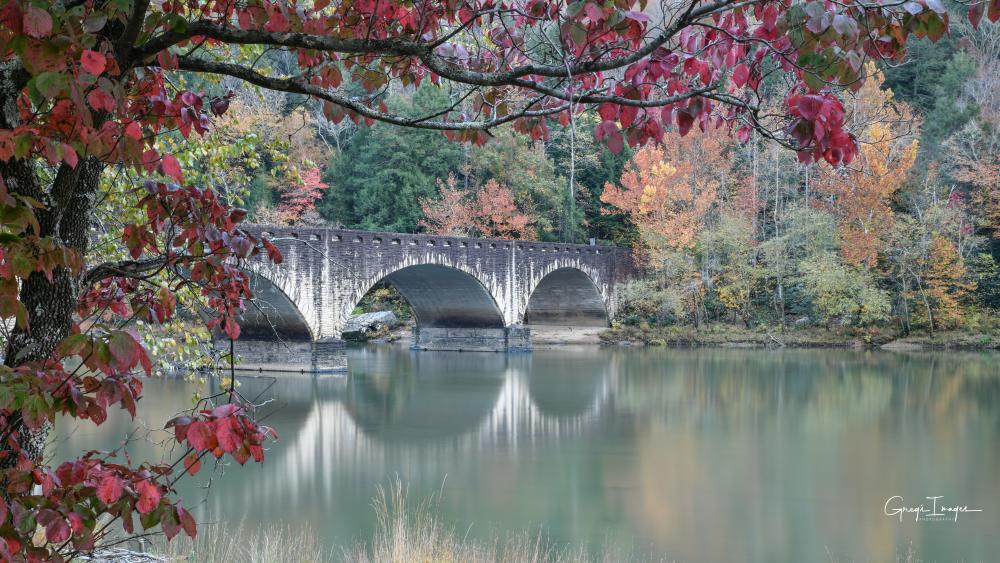 Gatliff Bridge, Cumberland Falls State Resort Park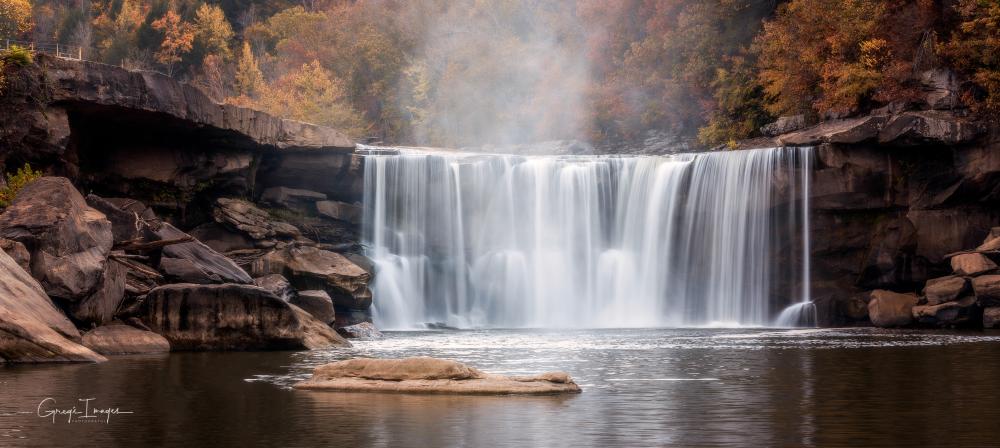 Cumberland Falls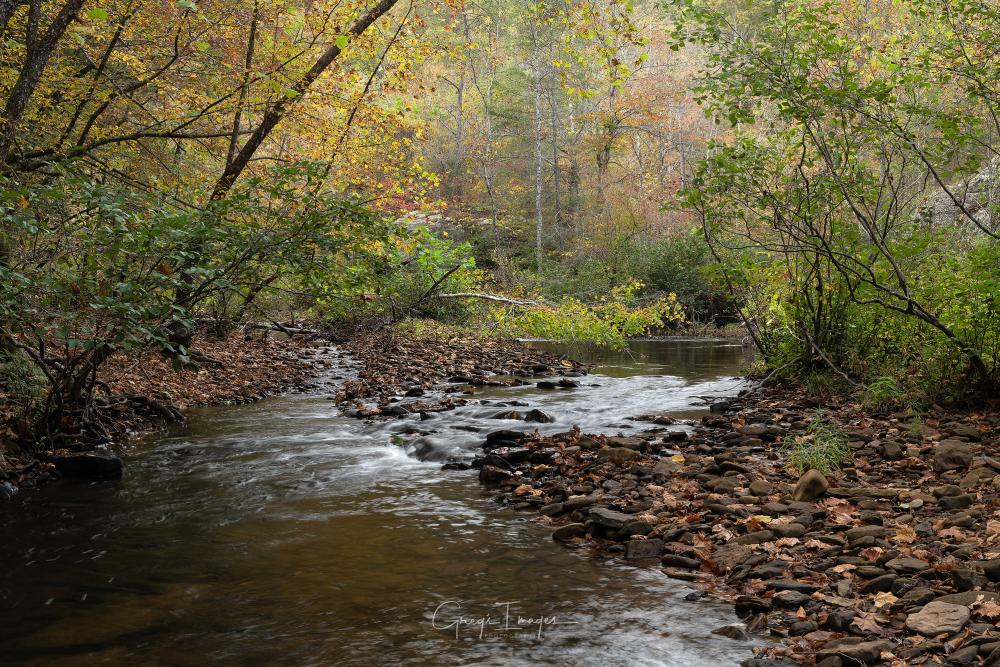 Rock Creek in October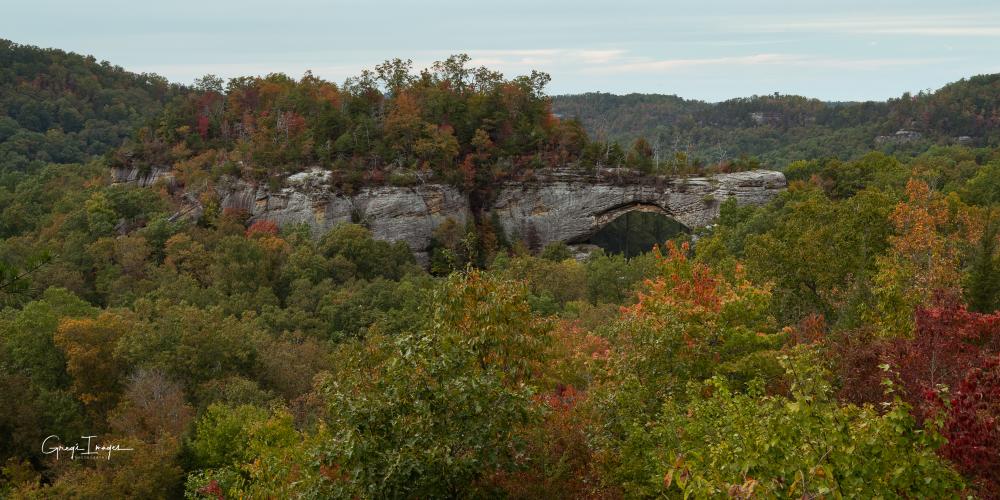 Natural Arch in Early October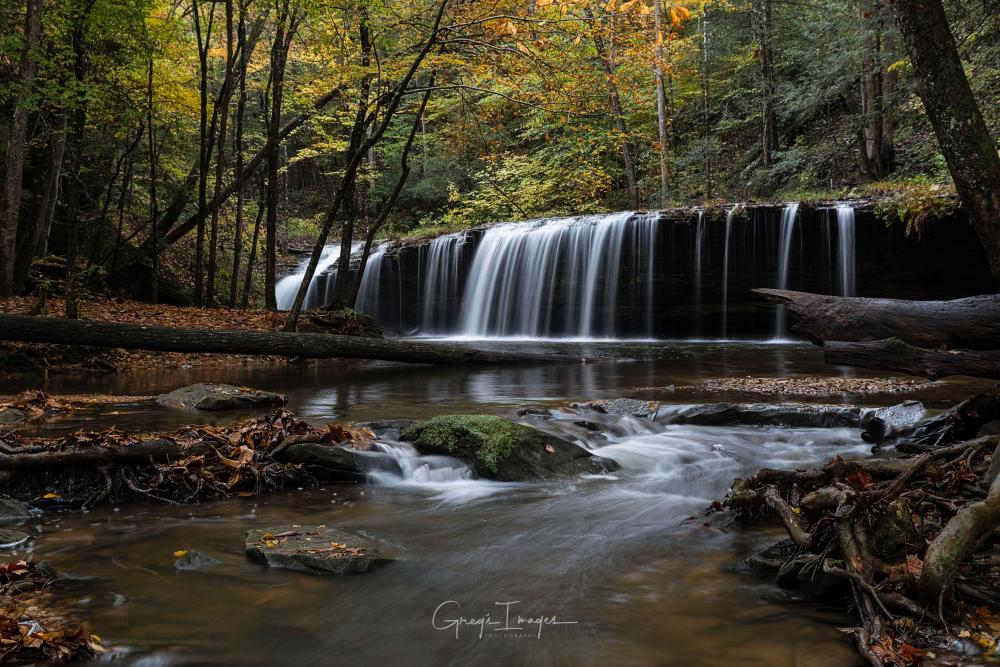 Princess Falls
A Student of Photography
By Meredith Frye - Meredith Frye has loved photography and capturing moments since her first camera was given to her around the age of 8. She loves people, her life, the outdoors, nature and building connections with those she meets. See more of her photographs at www.meredithfryephotogrphy.com.
My gear is all Fuji!! My camera I use the most is a XT4 but I also have and XT3 and XT2. My favorite lens is my 351.4 but I have a new 10-24 lens that is fast beginning to be one of my favs.
When outdoors my settings change a lot depending on lighting, time of day but for golden hour I would say to capture some of those beautiful sunsets I tend to shoot a bit underexposed to try to keep those details from being to grainy. My f-stop is usually somewhere between 4.0-8.0, My Shutter: 1/500 - 1/4000 and my Kelvin:5500-7500.
When I started my photography journey getting outdoors and shooting landscape was one of my favorites. My inspiration was Ansel Adams and I would read everything I could to learn more. I still do that!
I am a constant student when it comes to photography and I am always pushing myself to learn, practice and learn some more. It has been my passion for as long as I came remember but over the last few years is has become an obsession and a business that I truly love beyond anything I could have imagined.