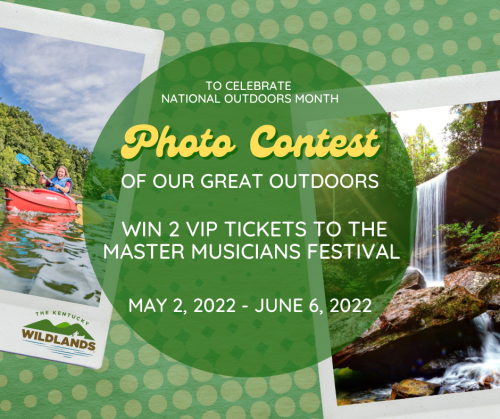 SOMERSET, KY — In celebration of National Outdoors Month in June, The Kentucky Wildlands is sponsoring the #tkwoutdoors photo contest.
"Where better to celebrate National Outdoors Month than The Kentucky Wildlands, which is larger than Yellowstone and Yosemite National Parks combined?" said Tammie Nazario, President/CEO of Eastern Kentucky PRIDE, which is sponsoring the contest as part of its tourism initiative, The Kentucky Wildlands.
"We hope this photo contest gives people the nudge to explore our region's great outdoors, with the added benefit of creating images that inspire others to explore the area themselves," Nazario said.
"We invite you to share your photos through social media with #tkwoutdoors, so everyone can enjoy the scenery," she said. "To officially enter your photo in the contest, visit the contest web page."
The photo contest web page, which has the rules and submission instructions, is: https://www.explorekywildlands.com/national-outdoors-month-photo-contest/
The #tkwoutdoors photo contest will run through June 6, 2022. Photos must be taken in The Kentucky Wildlands after Jan. 1, 2021, with subjects that fit one of six categories: natural world, travel, people, The Kentucky Wildlands experience, altered images and mobile.
The Kentucky Wildlands will select three finalists per category, a winner for each category and a Grand Prize winner from the finalists. The public will vote for a People's Choice winner through social media.
The Grand Prize winner will receive two tickets to the Master Musicians Festival, which will be held July 15-16 in Somerset. The Kentucky Wildlands gear, such as clothing, will be awarded to the Grand Prize winner, category winners and People's Choice winner.
For more information, please call 888-577-4339 (toll free) or email tkwphotocontest@gmail.com.
About The Kentucky Wildlands
The Kentucky Wildlands is a regional tourism marketing initiative in 41 counties of southern and eastern Kentucky. It showcases the region's majestic beauty and rich heritage with the goal of driving economic development. Components of the initiative will include a media campaign, hospitality education, itinerary development and entrepreneur training. The initiative was launched by Eastern Kentucky PRIDE, which is a nonprofit organization, with grant funding from the Appalachian Regional Commission and Economic Development Administration.
###