Red River Gorge
The wild – and wildly scenic – Red River Gorge in The Kentucky Wildlands is a unique geological wonder full of stunning natural beauty and abundant opportunities for ultimate outdoor adventures.
Certified as a National Natural Landmark and listed on the National Register of Historic Places, the 29,000-acre Red River Gorge Geological Area canyon system within it is operated by the U.S. Forest Service. It features more than 100 natural sandstone arches (the largest collection east of the Rocky Mountains) as well as high sandstone cliffs, natural bridges, rock shelters and scenic waterfalls. The 13,379-acre Clifty Wilderness Area also lies entirely within the Red River Gorge Geological Area.
World-Class Rock Climbing
Home to more than 600 miles of forest and natural sandstone hiking trails, abundant fishing, 300 miles of single-track mountain biking, challenging whitewater rafting, family-friendly paddling, kayaking, camping, swimming and more, the Red River Gorge offers multiple recreational activities for any taste or skill level.
But its best claim to fame may very well be its world-class rock climbing. Known simply as "The Red" to rock climbers all over the world, the Red River Gorge is one of the top rock-climbing and repelling destinations on the planet with 1,600-plus bolted sport and traditional climbing routes tailored to all levels, from easy to experienced. Bring your own climbing gear and get to it, or hook up with a guide or outfitter offering all the equipment and assistance you need.
Whitewater Rafting & Paddling
Designated as an official Kentucky Wild and Scenic River, the Red River in the upper Red River Gorge offers breathtaking thrills with challenging quick-succession Class II and Class III whitewater rapids, concluding with the Narrows of the Red River, a Class III gauntlet with some areas of maneuverability no wider than 6 feet! The lower section of the Red River offers a more leisurely 10-mile stretch of family-friendly Class I rapids with gorgeous opportunities for photos of the Sky Bridge Arch, Tower Rock and Chimney Top Rock along the way.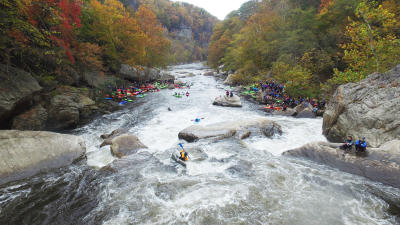 The Red River also offers some of Kentucky's best canoeing, swimming and shoreline fishing, including smallmouth and Kentucky bass, plus stocked rainbow and brown trout. For a totally different paddling experience, kayak underground through mystical caves on a trip you'll never forget.
Hiking, Biking & Horseback Riding
Located largely within pristine Daniel Boone National Forest, the Red River Gorge offers full access to more than 600 miles of beautifully connected hiking trails, providing hikers the opportunity to tackle routes of varying lengths and challenges. Natural Bridge State Resort Park provides even more scenic hiking and walking opportunities, as well as horseback-riding trails. (Don't miss a chance to ride the Sky Lift at Natural Bridge State Resort Park, too, for a birds-eye view of surrounding mountains and the park's namesake attraction.)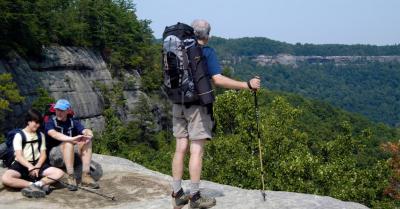 A 323-mile connected backcountry mountain biking trail with easy access points along the way for loop and sectional riding winds under the region's forest canopy that stretches as far south as Tennessee. You'll also find popular routes like Sky Bridge Trail and Rock Bridge Trail named after the area's geography.
More Outdoor Adventures
In a special place with so many treetops, ridgelines, gorges and overlooks, you can bet there's high-flying fun. You'll experience exactly that on a zipline canopy tour, where you'll soar up to 55 mph and 300 feet above the ground. Red River Gorge Ziplines offers five different courses, including side-by-side racing zips and a 1,900-foot line offering plenty of time to soak up the views.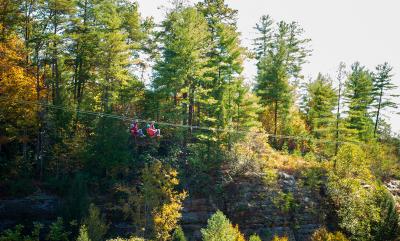 Speaking of views, there's plenty of wildlife to see in parks and along trails, or maybe you'd rather pack a picnic and hit the Red River Gorge Scenic Byway for a beautiful country drive. And on your way here or home, be sure to take the Red River Gorge's most famous shortcut through historic Nada Tunnel. This 900-foot-long passage along KY Route 77 in Powell County is a former railway tunnel now offering a paved route through a mountain. Suffice to say, it's a "experience" you won't want to miss!
Unique Places to Stay
When you're ready to call it a night, you'll find a variety of sustainably built cabins available for rent throughout the area, including everything from a cozy den built for two up to a luxury lodge that sleeps 40. Campgrounds are also plentiful, or maybe you'd prefer your own private luxury yurt offering one-of-a-kind glamping accommodations for up to 10 people.
Or how's this for something completely unique? You can also reserve your own breathtaking treehouse to sleep up IN the trees! From rustic abodes with solar power and drinking water to luxury canopy houses with hot showers, hot tubs and wi-fi, there's a wooded spot waiting for you.
A little too, um, high for your taste? No worries. Natural Bridge State Resort Park welcomes guests into hotel-style rooms with all the amenities to keep you comfy.
Whatever style of vacation you crave, it's time to book your trip to Kentucky's stunning Red River Gorge. And while you're here, be sure to learn about more things to see and do by contacting the Wolfe County Tourism Office at 10 Court Street in Campton. For more information, call 606-668-3040.
Hidden Gems in the Kentucky Wildlands